Governing Board
The Canton First UMC Governing Board welcomes your input. Please email any questions, comments, or concerns to
The Governing Board meets regularly at:
Canton First UMC
930 Lower Scott Mill Rd.
Canton, GA 30115
Fellowship Hall
Upcoming meeting dates and agendas are posted on the Board Meetings page.
Participation is encouraged at every meeting. Any church member who wishes to speak to an agenda item will have the opportunity to do so at any regularly scheduled Board Meeting, as recognized by the Chair.
2022 Board Meeting Schedule
2022 Governing Board and Committee on Nominations & Leadership Development
Governing Board Guiding Principles
Governing Board Organizational Chart
Staff Organizational Chart
2022 Governing Board Leadership Covenant
Wesley Covenant Prayer
2022 Ministry Teams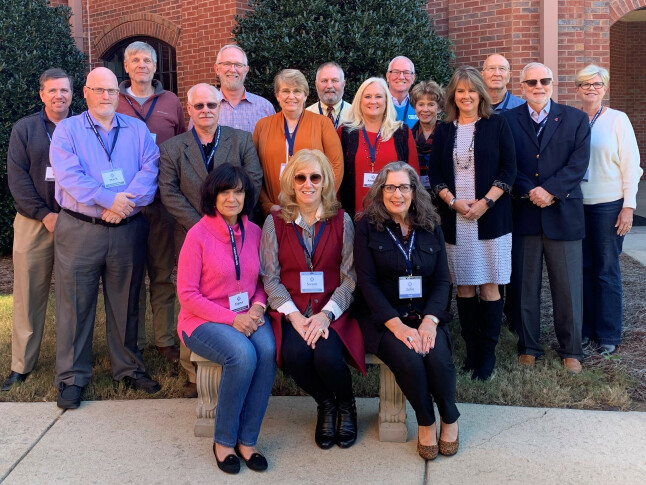 Front Row: Dana Hall, Susan Dreschel, Julie Little
Second Row: Mark Smith, Bob Hulsey, Elaine Daniel, Andrea Payne, JoEllen Wilson, Rev. Kelly Beckley, David Devine
Third Row: Bob Ballard, Dave Sullivan, Rev. Kenny Ott, James Cannon, Wayne Harmon, Clint Baber, Susan Thacker
Susan Dreschel, Governing Board Chair

Rev. Kenny Ott, Lead Pastor

Rev. Kelly Beckley, Executive Pastor

Julie Little, Director of Administration

Mission Statement
"Canton First United Methodist Church exists to glorify God and make disciples by sharing our lives with others so that everyone will find hope-filled life in Christ."
Our Mission
Our Core Values
Our Strategy
Our Measures