Sharing Life • Sharing Christ • For Others

We believe that God has a place for everyone in His story, and He wants to uniquely use your gifting and talent to Share Christ with others so that everyone will find hope-filled life in Christ.


---

Get Involved

We have several volunteer ministry opportunities and would love to help you get plugged-in with one of our Serve Teams! Please let us know your interest by filling out one of the online forms below.


Children / Youth Volunteer Ministry | Opportunities to Serve
---

We are a Safe Sanctuary Compliant Church

Jesus said, "Whoever welcomes [a] child … welcomes me" (Matthew 18:5). Children are our present and our future, our hope, our teachers, our inspiration. They are full participants in the life of the church and in the realm of God.
God calls us to make our churches safe places, protecting children and other vulnerable persons from sexual and ritual abuse. God calls us to create communities of faith where children and adults grow safe and strong. (From The Book of Resolutions of The United Methodist Church – 2000, pp 180-181. Copyright © 2000 by The United Methodist Publishing House. Used by permission).
Thus, in covenant with all United Methodist congregations, Canton First UMC has adopted a Safe Sanctuary Policy (Click Here to View the PDF) for reducing the risk of abuse of children, youth, and vulnerable adults in our church. It is the policy of Canton First United Methodist Church that all employees, volunteers, visitors, members, children, youth, and vulnerable adults be treated with respect, in an environment free from abuse, intimidation, humiliation, or insult. This policy's purpose is to demonstrate Canton First United Methodist Church's absolute commitment to the physical safety and spiritual growth of all the children, youth, and adults of the church.



---



Diana Meinecke
Hospitality Team Leader and Chancel Choir Assistant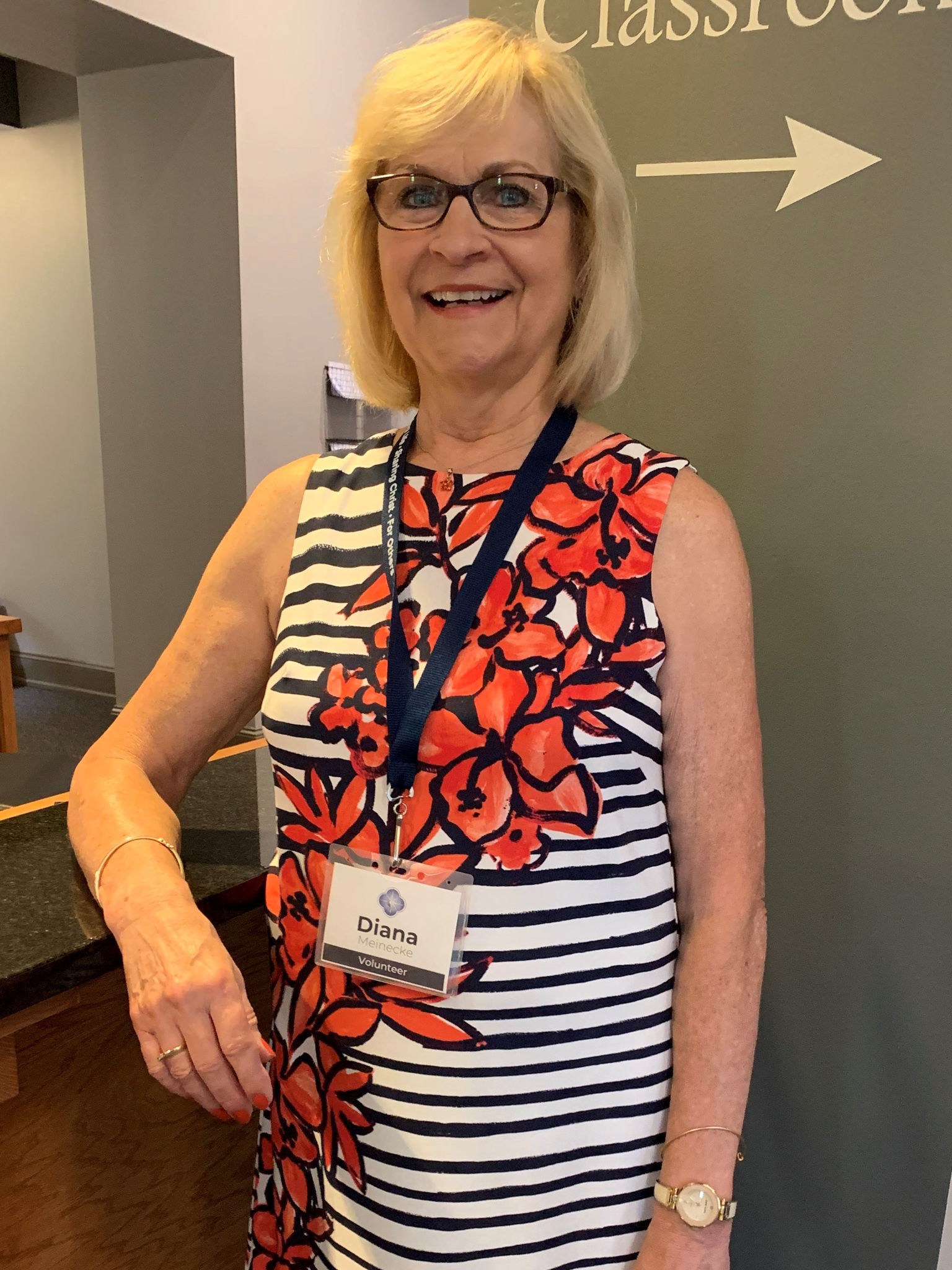 As part of our Hospitality Team, Diana Meinecke presently leads the Hospitality Area of Canton First, which includes finding Greeters and Hosts for the Welcome Desk. In addition, Diana assists the Choir Director, Don Stafford, by filing music, sending out announcements concerning practices, and keeping choir members up-to-date on birthdays and family situations to ask for prayers.
Diana is a retired school teacher and married to a terrific person, John. Together they have 3 grown daughters and 8 grandchildren. Their dog, Tramp, is the focus of much of their time. He is 14 years old and great company to them. Diana's "hobby" is volunteering. She not only serves at church, but with the Laurel Canyon Optimists Club raising funds for the youth of Cherokee County.
We asked Diana, why is it important to you to volunteer at Canton First? She responded, "My thoughts on this are that if you belong to any organization, you serve or work. Pastor Kenny has addressed this quite well when stating that we don't come to church for what it does for us. We come to take away knowledge and use it in our family, friends, and communities to help others know Christ."
There have been many meaningful moments for Diana while volunteering at the church. She shared that there are so many wonderful people that make her volunteer role meaningful. "It is only through these selfless folks that I can help Canton First. I have known so many "saints" over the 5 years I have done this. However, one does come to mind, and that is a gentleman who refused to serve only one Sunday a month, as I had organized the positions. During his time, he served every Sunday without fail. He was not a healthy person, and without warning he was taken to the hospital and passed away. This left a huge "hole" in my heart and spirit. I cried and asked God "Why?" The answer became clear to me, that this gentleman had done the "work" God had planned for him, and he was taken home to a much better place."
When we asked Diana, what do you enjoy most about volunteering in your area of Ministry, she responded, "I can say that I enjoy the people!"
"The amazing aspect about volunteering is what 'you' as a person receive while serving!" Diana encourages others to get involved in serving. "Canton First does need more volunteers, you can never have too many. My way of encouragement would be to simply say try being a Greeter, or learn about the Welcome Desk, or any other volunteer activity for a month or two. Then, we can talk about how it changes the person's church experience."
In closing Diana shared, "I was not certain how organizing these volunteer services would be after the pandemic. Time after time, as I made contact with volunteers, the comment was made that they had missed the handshakes, the hugs, and the feeling of purpose that had become a part of them!"
Fun facts about Diana:
Favorite Ice Cream: I like all ice cream--I never tried one I didn't enjoy!
Dream Vacation: My dream vacation is right here with my family and friends.
Favorite Sports Team: I have been a fan of the Florida State Seminoles for years. I admired Bobby Bowden as a teacher, coach, and spiritual leader for the young men.
Favorite Bible Verse: "I can do all things through Christ, who strengthens me." Philippians 4:13
Favorite Book: I taught Language Arts for 36 years and dealt largely with the Classics. I could never select a favorite!
---
Previous Volunteer Spotlights


March 2021 - Glenn and Kathy Hansen
Hospitality Team Members | Hospitality Ministry
February 2021 - Linda Perry

Connect and Life Groups Coordinator