Sharing Life • Sharing Christ • For Others

We believe that God has a place for everyone in His story, and He wants to uniquely use your gifting and talent to Share Christ with others so that everyone will find hope-filled life in Christ.


---

Get Involved

We have several volunteer ministry opportunities and would love to help you get plugged-in with one of our Serve Teams! Please let us know your interest by filling out one of the online forms below.


Children / Youth Volunteer Ministry | Opportunities to Serve
Adult Volunteer Ministry | Opportunities to Serve
For a complete list of Ministry Teams, please click here.
---

We are a Safe Sanctuary Compliant Church

Jesus said, "Whoever welcomes [a] child … welcomes me" (Matthew 18:5). Children are our present and our future, our hope, our teachers, our inspiration. They are full participants in the life of the church and in the realm of God.
God calls us to make our churches safe places, protecting children and other vulnerable persons from sexual and ritual abuse. God calls us to create communities of faith where children and adults grow safe and strong. (From The Book of Resolutions of The United Methodist Church – 2000, pp 180-181. Copyright © 2000 by The United Methodist Publishing House. Used by permission).
Thus, in covenant with all United Methodist congregations, Canton First UMC has adopted a Safe Sanctuary Policy (Click Here to View the PDF) for reducing the risk of abuse of children, youth, and vulnerable adults in our church. It is the policy of Canton First United Methodist Church that all employees, volunteers, visitors, members, children, youth, and vulnerable adults be treated with respect, in an environment free from abuse, intimidation, humiliation, or insult. This policy's purpose is to demonstrate Canton First United Methodist Church's absolute commitment to the physical safety and spiritual growth of all the children, youth, and adults of the church.



---




Rene Massey
Hands for God Ministry
Rene is retired and widowed and enjoys working with the Hands for God (HFG) Ministry at our church. Renee says it gives her purpose to share what she enjoys doing, and especially to give blankets to a person who may need to know that someone who doesn't even know their name, cares for them.
---
Previous Volunteer Spotlights
2022
July 2022 - Steve Smith
Modern Worship Band Member

Learn More
| | | |
| --- | --- | --- |
| June 2022 - Lisa Lundy | May 2022 - Rev. Larry Dettner | April 2022 - Lisa Vaugh |
| Hospitality | Sunday Morning and Church Office Greeter | Care Ministry | GriefShare Team Leader | Missions | Ed Towers Community Fund Team Leader |
| | | |
| Learn More | Learn More | Learn More |
| | | |
| --- | --- | --- |
| March 2022 - Bill Harper | February 2022 - Richard Landolt | January 2022 - Susan Belangee (left), Brandi Grogan (middle), and Debbie Lanter (right) |
| Adult Ministry | Veterans Team Leader | Hospitality | Meal Team Leader | Children's Choir Volunteers | "ChoirAngels" |
| | | |
| Learn More | Learn More | Learn More |
---
2021
December 2021 - Annette Johnson and Anne Coffman
Altar Guild Team Members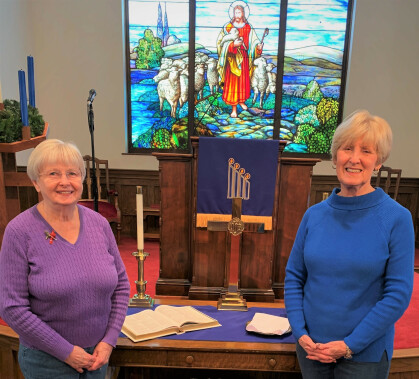 November 2021 - Jill Smallwood & Lensey Katter
Children's Ministry Volunteers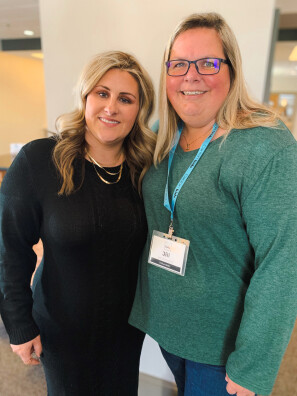 October 2021 - Anne Maranto
Care Ministry Volunteer